A new bill was purposed last week in Massachusetts that would ban tackle football before seventh grade. State Representative Paul Schmid (D-Westport) and House Minority Leader Brad Jones (R-North Reading) have filed a piece of legislation called "An Act for no organized head impacts to school children" The premise of the bill filled is to protect children from head injuries and growing concerns over CTE.
If it passes, the bill would essential put an end to tackle youth football in the state. In lieu of tackle football, kids could play flag football or two hand touch instead.
Public opposition to the bill is growing. Many people are questioning why the government is telling parents that their children cannot play a sport before a certain age. Shouldn't that be the parents decision? To me, this legislation blatantly disregards a parents right to make that decision. Let the parents decide whether or not their children should play youth football, not the state.
The bill purposed by Representatives Schmid and Jones is nothing more than an attempt to play into parents fears about football and to pander for votes in their respective districts. It is a shame that they are using the game of football as a political tool.
Youth football organizations and it's coaches have worked hard in recent years to make the game safer. Coaches are teaching proper fundamentals and techniques, especially when it comes to blocking and tackling. The game has never been safer for young people.
I understand that parents have concerns about the safety of the game. Their concerns are valid and if they chose to not allow their sons or daughters to play, that is their prerogative. The decision shouldn't be made by the state.
Some local politicians who initially supported the bill are already backing off because of the public opposition to the bill.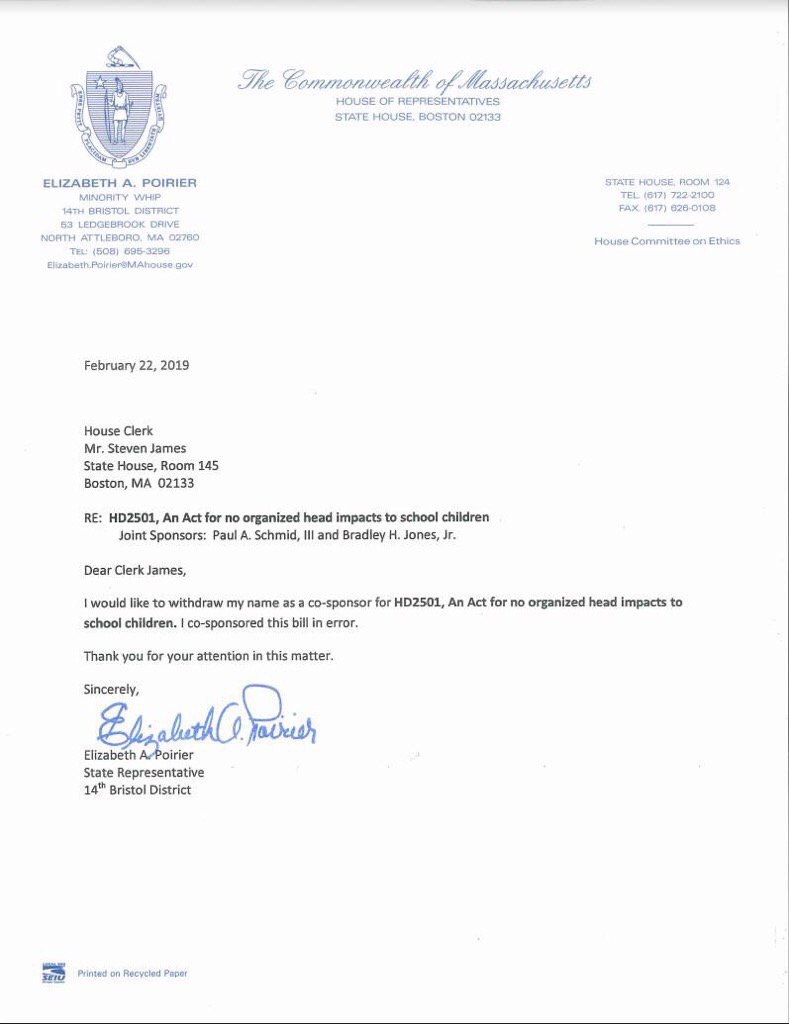 We need more vocal opposition against this bill. Let the state house know that the game is safe and that the parents should be the ones deciding if their children are going to play, not the government.
The game of football has been under attack for years. If this bill passes and becomes law, it would essentially kill the game in Massachusetts. We cannot allow that to happen. We must save the game we love and continue to use it as a vehicle to teach young people valuable life lessons and the importance of team.
Future generations of young people deserve the opportunity to play the game. Let's not allow the government to take that opportunity away. It is not up to the state as to whether or not children play the game. It is up to their parents. They should be the ones making that decision. Let's leave up to them and their children.
Don't allow the state to kill our great game. If this piece of legislation passes, that is exactly what is going to happen.