NFL players approved a new CBA this morning by a narrow margin. The final vote was 1019 to 959. Approval required a majority of the players voting for the proposal.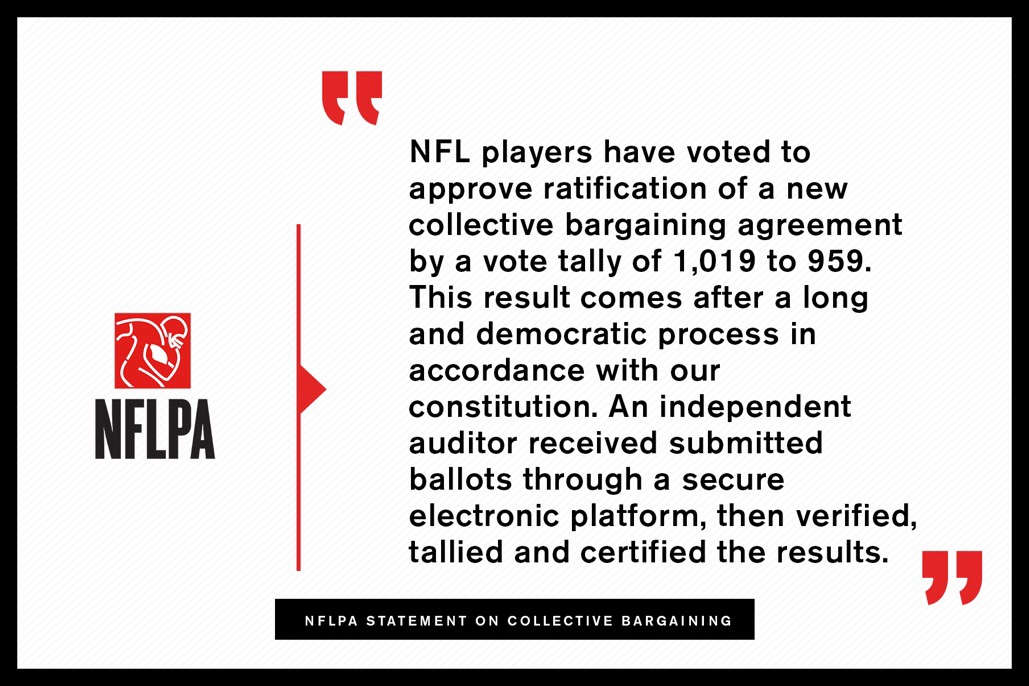 The players who paid dues were given a ten day period to vote on the proposal. Despite facing heavy opposition from star players such as Aaron Rodgers, J.J Watt, Russell Wilson and Michael Thomas, the new CBA passed.
The agreement paves the way for a 17 game regular season starting in 2021 and an expanded playoff format which increases the number of teams in the playoffs from 12 to 14.
The new CBA goes until 2030, ensuring that there will be labor peace in the NFL for the next decade.
One key feature of the new CBA is that teams can no longer use the franchise tag and the transition tag in the same off-season. Teams used to be able to do that under the old agreement. This will impact teams like the Dallas Cowboys who have two high profile free agents in quarterback Dak Prescott and wide receiver Amari Cooper.
As far as the Patriots are concerned, they have $25 million to spend this off-season. One of the features of the new CBA that is no longer in place is the 30% rule.
Under the old CBA, a player's salary can only increase 30% per season, per deal. Let's say a player is making $1 million in 2020 but is signed to a four year deal. The annual value of their deal can only increase by $600,000 per year. Said player's contract would look like like this.
Year 1: $1 million
Year 2: $1.6 million
Year 3: $2.2 million
Year 4:$ 2.8 million
By eliminating the 30% rule, teams have more flexibility to negotiate with players and vice versa.
The players did well in this new CBA despite the objections of some players. The owners will now negotiate new T.V deals which should benefit them and the players and the salary cap is expected to go up. It is a win, win for both sides.