For the sixth in the twenty year tenure of Bill Belichick, the Patriots did not make a first round selection. Instead, they traded the 23rd overall pick in this year's draft to the Los Angeles Chargers for the 37th pick in the second round and the 71st pick in the third round.
Obviously the Patriots felt comfortable making this trade because the players that they had stacked on the top of their board were still available and some were still going to be there well into the second round.
On the surface, I didn't initially like the trade because the Patriots passed up on a terrific talent in Kenneth Murray. Murray would have been a terrific scheme fit in their defense. At least in my opinion.
My opinion doesn't count however so in the end, the Patriots did the right thing. Moving down worked out for them. They are still going to have an opportunity to draft from a talented pool of players that includes: Xavier McKinney, Cole Kmet, A.J Epenesa, Yetur Gross Matos, Grant Delpit, Jaylon Johnson and Trevon Diggs. They will get a good player at this point in the draft.
Pick 71 gives the Patriots another third round pick and the ammunition to trade back into the second round if they wanted to. If they could draft two players in the second, third and fourth rounds, then they will have fortified the roster and addressed some needs.
In a perfect world, this draft ends up resembling the 2009 draft which was highly successful. The Patriots drafted seven players that played and contributed. Three of them were impact players in Vollmer, Chung and Edelman. All three have been key contributors to the last three Super Bowl titles.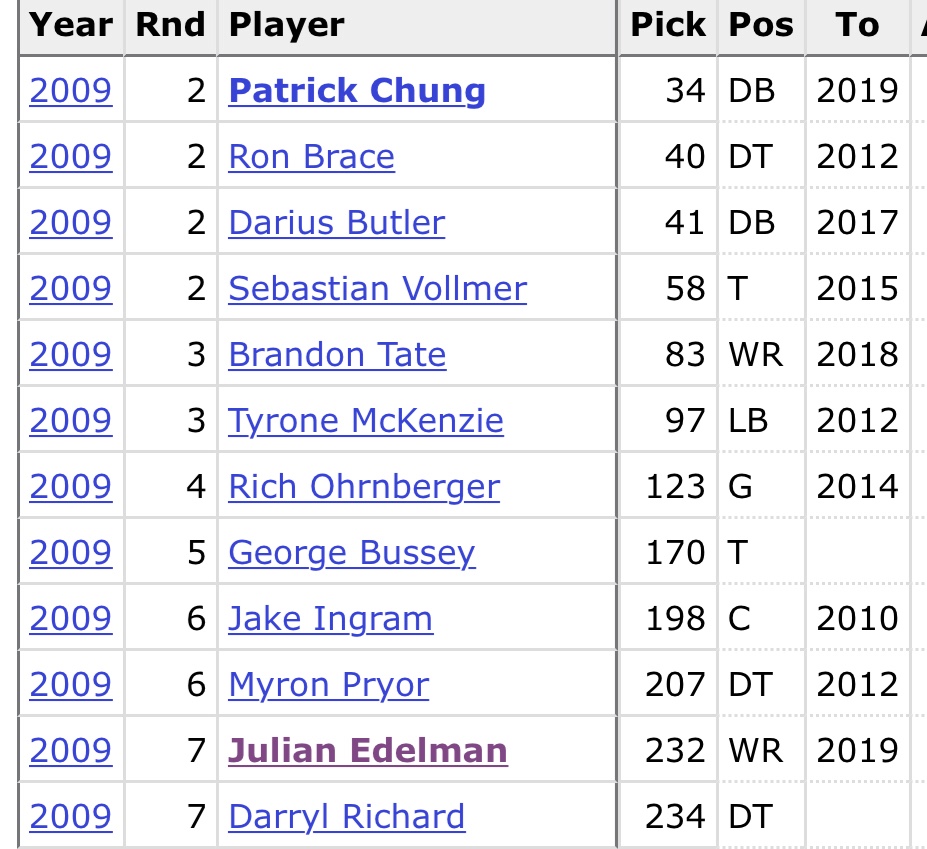 If we "Trust in Bill" then we need to trust that he is going to take advantage of the additional picks acquired and add more talent to this roster.