By Kevin Stone/@kstone06/@newftbj
New England Football Journal
For nearly a decade, the only question the Patriots ever really had about the tight end position was whether or not Gronk would be healthy or not. When healthy, he was the man.
Now, as a new era rolls into Foxborough, the Patriots have decided to invest in two new guys out of college as the potential wave of the future.
We all know that this isn't the first time Bill Belichick has put an emphasis on two quality tight ends, but it is the first time in a long time that a lot of attention will be paid to the position for reasons other than Gronkowski's outlandish personality or when he made a ridiculous catch and added a spike.
When New England drafted Daniel Graham in 2002 and Ben Watson in 2004, it was the first attempt at having two dynamic pass catching tight end's in the Belichick era. Both were serviceable players, but Belichick's two-tight end assault on defenses around the NFL really ramped up a notch with Gronkowski and Hernandez being drafted in 2010.
Gronkowski and Hernandez didn't play very long together, but the way they were used and their production value could be replicated by new draftees Devin Asiasi from UCLA and Dalton Keene from Virginia Tech – albeit on a much smaller scale.
No one or two players will ever replicate what Gronkowski gave you as a weapon, and when he and Hernandez were on the field together it was almost unstoppable, but finding ways to get the ball in both of these guys' hands in various formations may give us a slight return to offensive normalcy if and when Stidham is able to build a consistent chemistry with them.
Asiasi finished his three-year college career between Michigan and UCLA with 52 receptions, but 44 of them came just last season, suggesting Asiasi is finally figuring out who he is as a player. He had 789 yards receiving in his three years and six TD's.
Meanwhile, Keene has been very consistent even though the numbers aren't gaudy and could play the Hernandez role offensively, hopefully just without the murdering part. In his freshman, sophomore and junior years with the Hokies Keene had 748 yards on 59 catches with eight touchdowns. Perhaps more importantly, he also added 11 carries for 33 yards last year.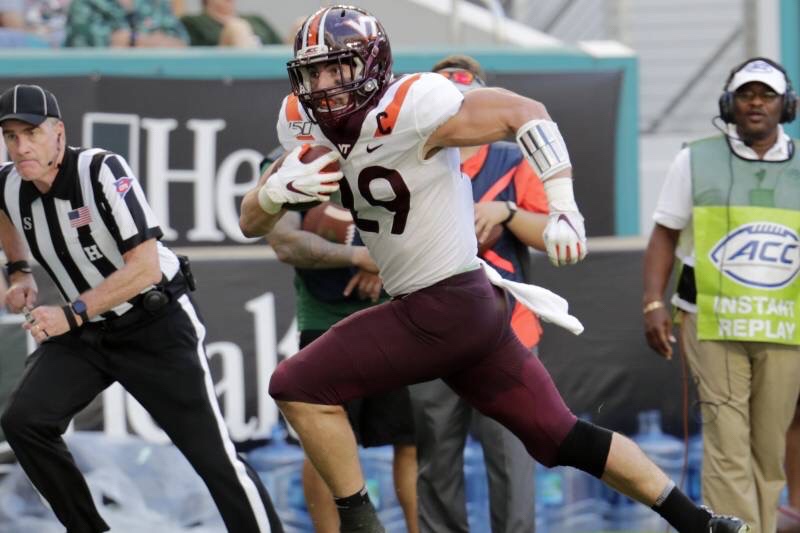 Obviously that's nothing special in terms of numbers, but the versatility will be key in an offense suddenly re-inventing itself with a ton of youth. Keene in particular was thrilled to be picked by the Pats for that very reason.
"I mean, the level of versatility at Virginia Tech – I think they tried to do a lot of different things with me," he said on a conference call following the draft. "It was awesome they trusted me to do so many different things and I think it says a lot about how I play and as a football player. That's why I'm so excited that I got picked up by the Patriots because I think they do so many different things with their tight ends and are really creative there.
"So, I couldn't be happier right now with where I ended up."
Keene also recognizes the different ways that both he and Asiasi can make an impact while on the field at the same time, something Patriots fans grew accustomed to in the early part of last decade.
"I'm actually really excited about that because I think we'll compliment each other really well," Keene added during the call. "I was actually roommates with him at the Combine so I got a chance to get to know him and he's an awesome guy. I'm really excited for him. I think he's going to do a lot of things really well, especially in the passing game. I couldn't be more excited to start to develop our relationship, and I think we're going to do a lot of really good things."
I do love the idea of two guys going through the entire stressful Combine process together then joining forces on the same team. That initial awkward college orientation stage is already out of the way, and the two of them should already have a bit of chemistry built in.