Jedd Fisch is the most prominent Patriots coaching hire this off-season.
The Patriots announced their 2020 coaching staff today and one of the first things that jumps out at you is just how much youth and inexperience there is on this staff.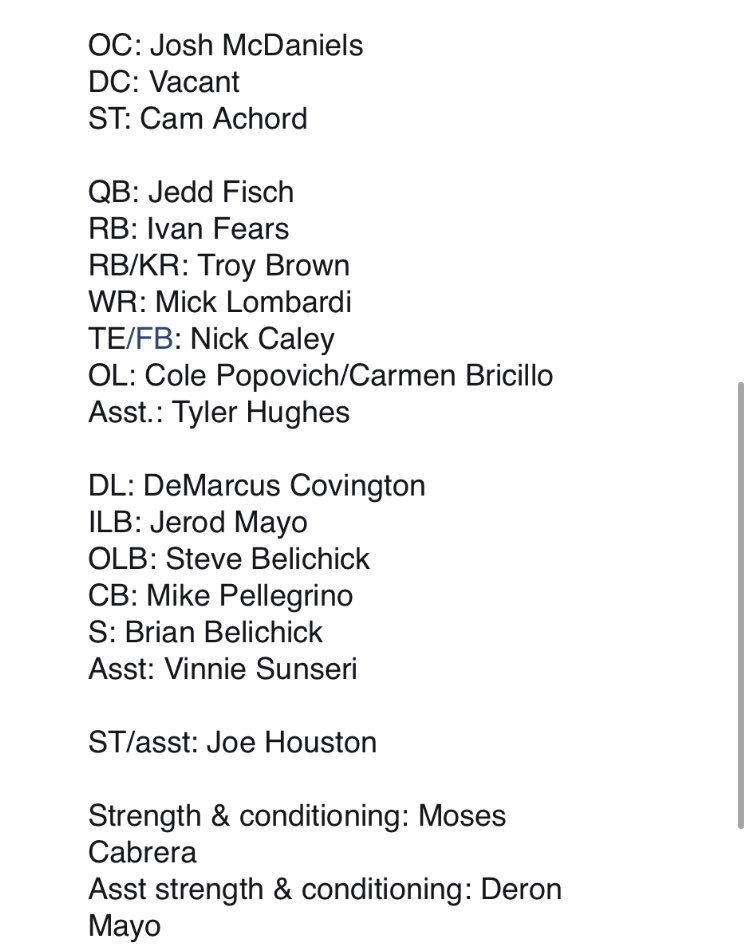 Image courtesy of Mike Reiss.
Offensively, the addition of Quarterbacks coach Jedd Fisch is significant. Fisch has been a long time coordinator at the NFL and college levels and brings a wealth of knowledge and experience to the organization.
Fisch and longtime offensive coordinator Josh McDaniels will work well together.
Veteran running backs coach Ivan Fears is back and he will have a new assistant this season as Troy Brown works with the running backs and kick returners. Brown is developing into a versatile coach and someone who will have a larger role within the organization in the coming years.
Mick Lombardi, son of longtime NFL executive Joe Lombardi takes over the wide receivers for the departed Joe Judge. Lombardi has some young receivers to work with most notably N'Keal Harry, Jacobi Meyers and rookies Will Hastings and Jeff Thomas.
The tight ends will be coached once again by Nick Caley.
Of course the biggest shoes to fill on the staff will be those of Dante Scarnecchia who retired after the season. Cole Popovich, who has assisted Scarnecchia in recent years will take over in the lead role and he will work closely with Carmen Bricilo who joined the Patriots staff last off-season from Youngstown State. Both Popovich and Bricilo are good coaches but they have a lot of work ahead of them.
Defensively, Steve Belichick will move from safeties to outside linebackers. Belichick called the defense last season along with Jerod Mayo who will coach the inside linebackers.
DeMarcus Covington will coach the defensive line. Covington replaces the departed Bret Bielema who went to the Giants with Judge.
There is another Belichick on the staff. Bill's youngest son Brian Belichick will coach the safeties. He and cornerbacks coach Mike Pellegrino will coach the secondary together. The younger Belichick will be assisted by former Alabama safety Vinnie Sunseri.
Belichick has stuck with the formula that has worked for him when it comes to his staff. He develops the coaches. Steve and Brian Belichick, Popovich, Caley, Covington and Pellegrino are all products of Bill's 20 for 20 Club. 20 hours a day for $20,000 dollars a year. They are well versed in how Belichick thinks and the Patriot Way. It will come in handy this season with all the staff changes.